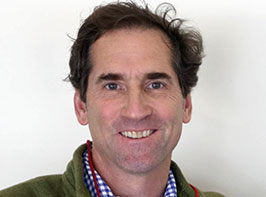 Internist and public health practitioner
Dr. Bruce Struminger graduated from Harvard College with a degree in Art History [1985] and from the Harvard Graduate School of Arts and Sciences with an MA in Medical Anthropology [1999] and earned his MD at Johns Hopkins School of Medicine [1998]; he completed his residency in Internal Medicine [2002] at the University of Michigan in Ann Arbor.​
Dr Struminger is an Internist and public health practitioner who served for six years with the US Indian Health Service on the Navajo Indian Reservation [2002-2006 & 20012-2014] and for six years with the US Centers for Disease Control and Prevention, as the Country Director in Cote d'Ivoire [2007-2009] and in Vietnam [2009-2012].​
Dr Struminger transitioned to the University of New Mexico in 2014 as an Associate Director of Project ECHO and an Associate Professor of Internal Medicine in the Department of Infectious Diseases; his clinical practice is based at UNM's Truman Health Services.​
At Project ECHO his work focuses on supporting the NM ECHO clinics and on collaborations with the Indian Health Service and CDC, including both domestic and global initiatives.​